FLIP8 Pro Package with SHALLOW & DIVE Filters & +15 MacroMate Mini Lens for GoPro HERO 5, 6, 7 & 8
The all new FLIP8 - A complete filter and lens system for GoPro HERO5, HERO6, HERO7 & HERO8 Cameras in the Super Suit or Protector housings
Kit Includes:
Allen Wrenches for Installation
Multiple filters for perfect color!
As hardcore GoPro users, we discovered that capturing the best underwater color requires the use of multiple filters. After hundreds of hours of testing, we've perfected a multi-filter system and integrated it into our world-renowned FLIP design. The all new Backscatter FLIP8 gives you multiple filters at the flip of one finger. Optimal color has never been so easy! Watch our ample video to see the multi-filter system in action.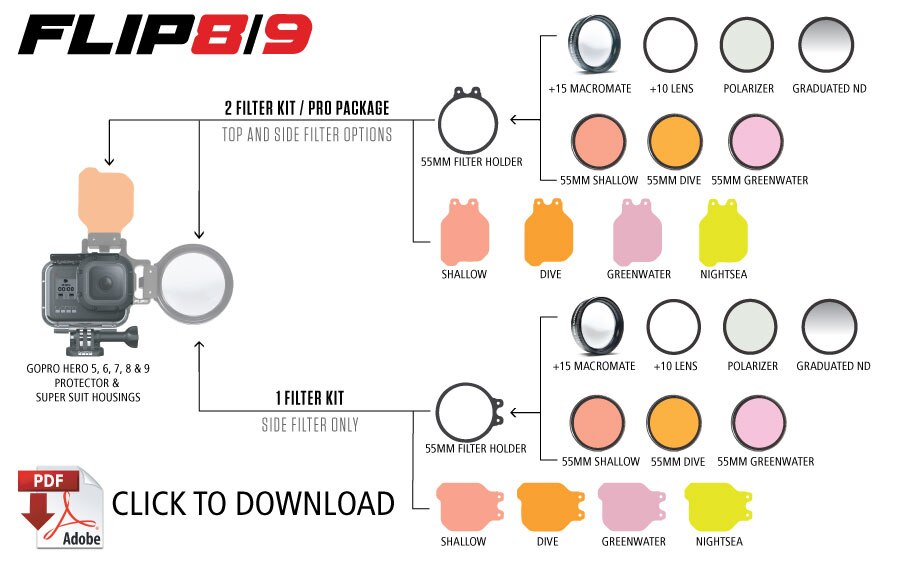 A complete filter and lens system for GoPro HERO5, HERO6, HERO7 & HERO8
The FLIP8 System has the same professional craftsmanship of our previous models. The FLIP8 offers the best color and most rugged design of any filter on the market.
Aircraft grade anodized aluminum construction
Easy to use flip mechanism for one finger on / off control
Simple installation with rugged clamp-on design
Unobstructed view of front LCD display
Easy front camera button access with thick gloves
Open the camera housing without removing filter
Fumble-free flip design means you'll never lose a filter
No vignetting in any underwater shooting mode
Includes SHALLOW filter optimized for diving between 10 and 25 feet & DIVE filter optimized for diving between 25 and 80 feet
Optional 55mm threaded mount provides the ultimate filter solution; easily add our +10 close-up lens, polarizer, split neutral density, or any other filter to your GoPro for topside or underwater use
Snap lock a lens or filter with just one finger
The hinged design of the Backscatter FLIP8 offers the ultimate solution for above and below water shooting. Other designs use internal gel filters that require you to break the factory sealed lens and can't be removed from above water shooting. Other press-on filters can be removed, but are easily lost or damaged and frequently require multiple hands to install. Filters on the FLIP8 can be flipped out of the way with just one finger and lock into on/off positions with a positive snap.
New Flip Filter Ergonomic Tab Design
The new FLIP8 has a larger frame due to the larger lens port on the GoPro Hero 8 housing. To make it easier to open with this larger design, we added an ergonomic tab to the filter. This new filter with the tab is backwards compatible with all previous FLIP systems back to FLIP3.1. Older filters can be used with FLIP8, but the lack of a tab makes it not as easy to use. The 55mm threaded filter holder remains unchanged.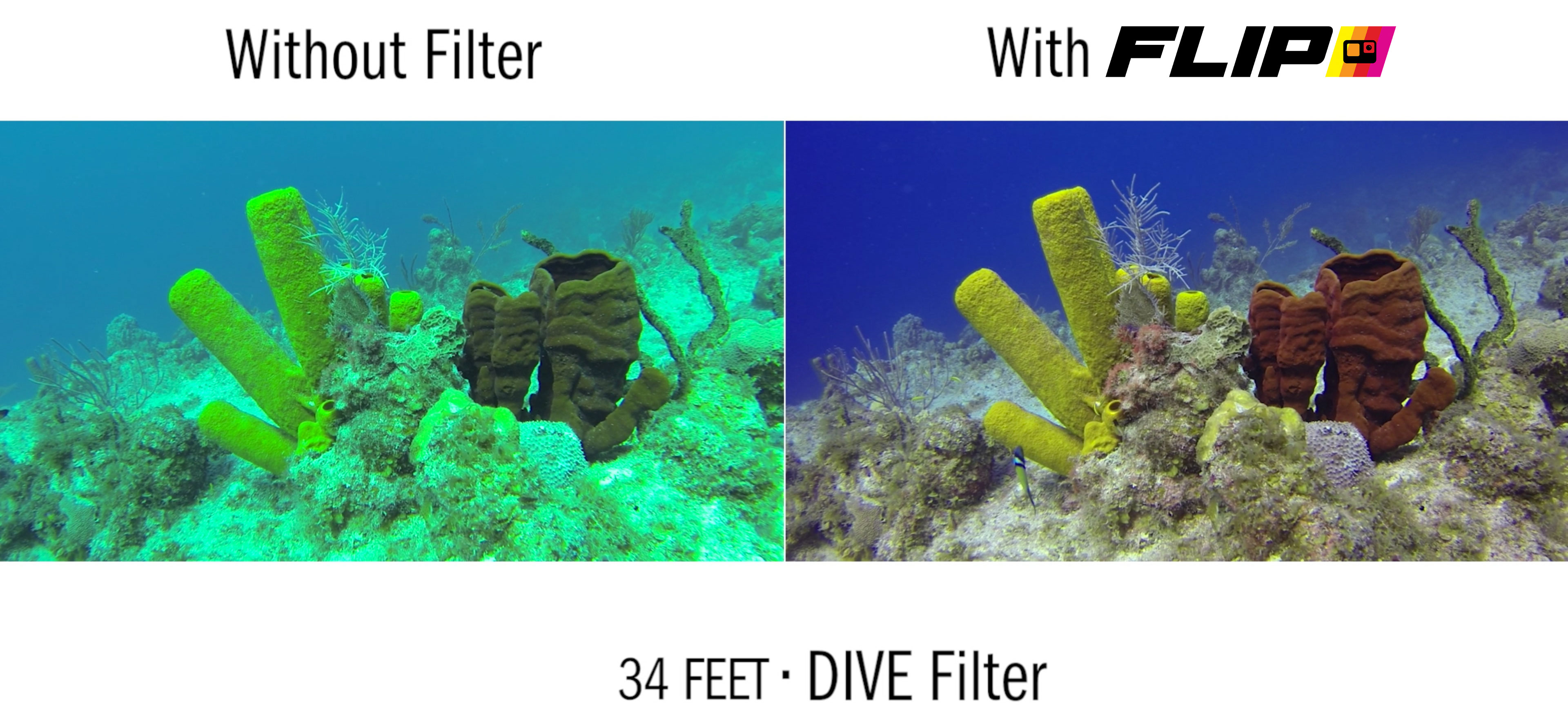 Why is our FLIP8 color formula the best? - Countless hours of in-water testing!
The Backscatter test team has spent years testing exciting new filter formulas in a variety of real-world conditions around the globe. While it's possible for a manufacturer to select a filter formula by the numbers or a few test dives in one location, we know only an elaborate battery of controlled tests will produce the ultimate GoPro filter. Here's why...
"Bluewater" is a moving target
Bluewater comes in many flavors around the world. From the gin clear waters of the Bahamas to the blue-green waters of Indonesia and Papua New Guinea, each region has its own signature color. Add the effects of weather, tides, shallow depths, and deep depths to these regional variations and you end up with a very broad definition of "blue water." The Backscatter test team has shot countless hours of footage in all conditions around the globe to redefine the ultimate universal blue water filter formulas.
Not all GoPro cameras are created equal
We discovered early on that individual GoPro cameras can have a different color bias underwater. One camera might shift yellow and another camera might shift green. The Backscatter test team has gone to extraordinary lengths to evaluate multiple copies of both the HERO5, HERO6, HERO7 & HERO8 cameras in every situation with our new prototype designs. We're confident our tweaked and re-tweaked formulas will not only best match "typical blue water conditions" but also harmonize with the variations in GoPro cameras.
The result - the Best GoPro filters available
We didn't go over our R&D budget and timeline just to make the best filters for our customers. The team here at Backscatter has demanded the best filters for our personal shooting as well. We're confident that you'll agree that the new FLIP8, SHALLOW and DIVE filters are well worth the wait. Most importantly, you'll get the best color out of your GoPro investment regardless of the blue water you find on your next dive.
Optical Grade Scratch Resistant Material
The FLIP8 filter material is resistant to scratches. It is similar to the optical acrylic used in eyeglasses. Most filter damage occurs during travel to and from the dive site. You'll discover that most accidental scratches will not show up in your videos. Acrylic polish such as
Novus
can be used to buff out any unsightly scratches.
Use GoPro PHOTO MODE for stunning macro photographyThe sample photos below were taken with a GoPro HERO3+ Black camera set to medium photo mode. The first image is without lens and the second is with the +15 MacroMate Mini.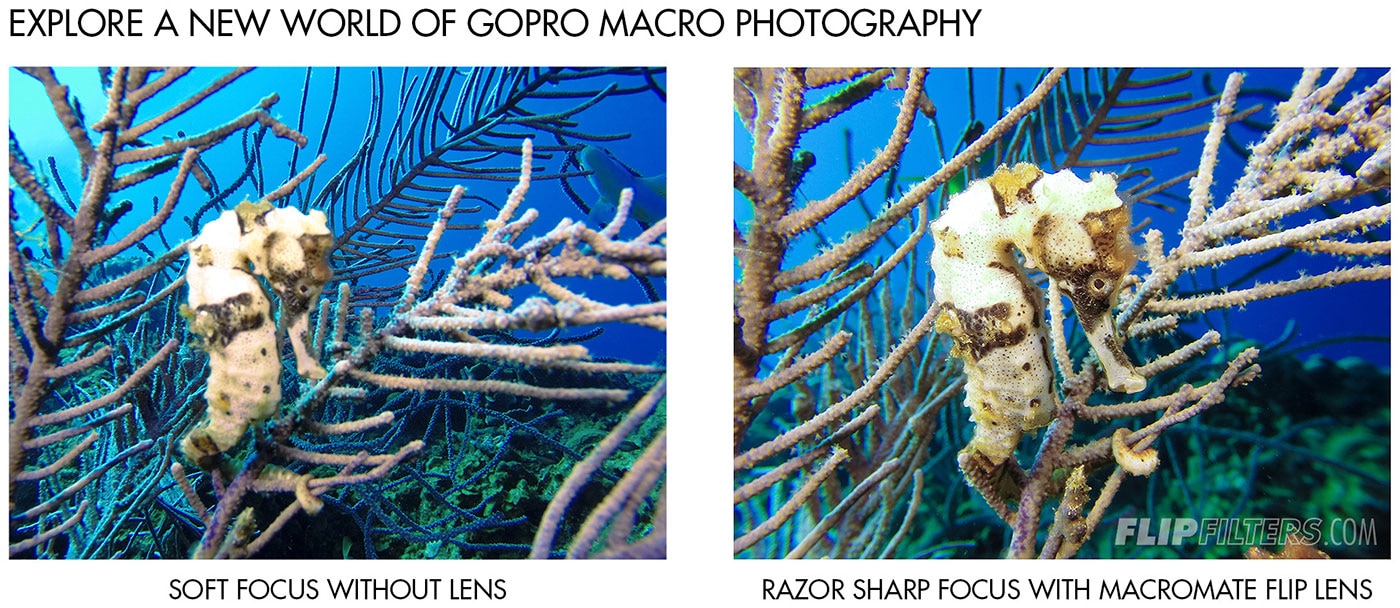 Use GoPro VIDEO MODE to bring tiny action to the big screen
The video below was shot with a GoPro HERO3+ camera set to narrow video mode and a +15 MacroMate Mini lens. While the +15 MacroMate mini works in wide, medium, and narrow video modes, the narrow mode gives you the sharpest edges and the most stunning results. Watch this video to see how the +15 MacroMate Mini has revolutionized GoPro for underwater.
Why do you need a macro lens?
Without corrective optics, GoPro HERO3, HERO3+, HERO4, HERO5, HERO6, HERO7 & HERO8 cameras can only focus to about 1-2 feet underwater. The custom +15 MacroMate Mini design allows you to get within 3 inches of your subject so you can bring the tiny wonders you find to the big screen. If your favorite underwater subjects are about the size of a golf ball, the +15 MacroMate Mini is about to become your best friend.
Fill your frame with golfball sized subjects
The
FLIP +10 Close-Up Lens
works great for shooting subjects sized from soccer balls down to golfballs that are roughly 6-12 inches from the camera. However, the +15 MacroMate Mini brings your focus to about 3 inches allowing you to fill the frame with subjects as small as a golfball. The video frames below were shot with a GoPro HERO3+ in narrow video mode and illustrate the difference between the lenses. The scorpionfish head was about the size of a softball. The camera was moved closer to the subject to get the +15 MacroMate Mini image. Our staff's favorite macro configuration is a FLIP8 with both a +15 MacroMate Mini and +10 Close-Up Lens so we're ready for all subjects.
The +15 MacroMate Mini is the only true macro lens for the GoPro
Two custom-designed glass optics are mated together and sealed in a vacuum resulting in a lens that is perfected for underwater use. This design delivers sharper images, higher contrast, and deeper blacks than any other GoPro lens designed to date. It's state of the art and born from countless hours of in-water testing.

Sample GoPro video frames with the +15 MacroMate Mini off and on
No plastic parts to break - rugged aluminum construction
The FLIP8 filter system is machined from aircraft-grade aluminum and is designed to withstand the bumps and grinds of professional underwater use. The aluminum FLIP8 frame clamps securely to your GoPro and a precision machined hinge keeps your lenses and filters flipping year after year. We've put the same attention to detail in the +15 MacroMate Mini and carve each lens ring from a solid block of aluminum.
Fumble free flip design means you'll never lose your lens
When the action is happening, you don't want to be fumbling with lenses. Our world-famous flip design gives you one finger access to color filters and lenses on the same dive without the fear of dropping a lens into the deep. The +15 MacroMate Mini threads securely to the aluminum 55mm flip adapter so you can always keep it handy. As you know, dive trips are expensive and require a lot of effort. The last thing you want to do is fumble or break gear on a once in a lifetime trip. The FLIP system and +15 MacroMate Mini will not let you down and more importantly, it will revolutionize the way you use a GoPro underwater.